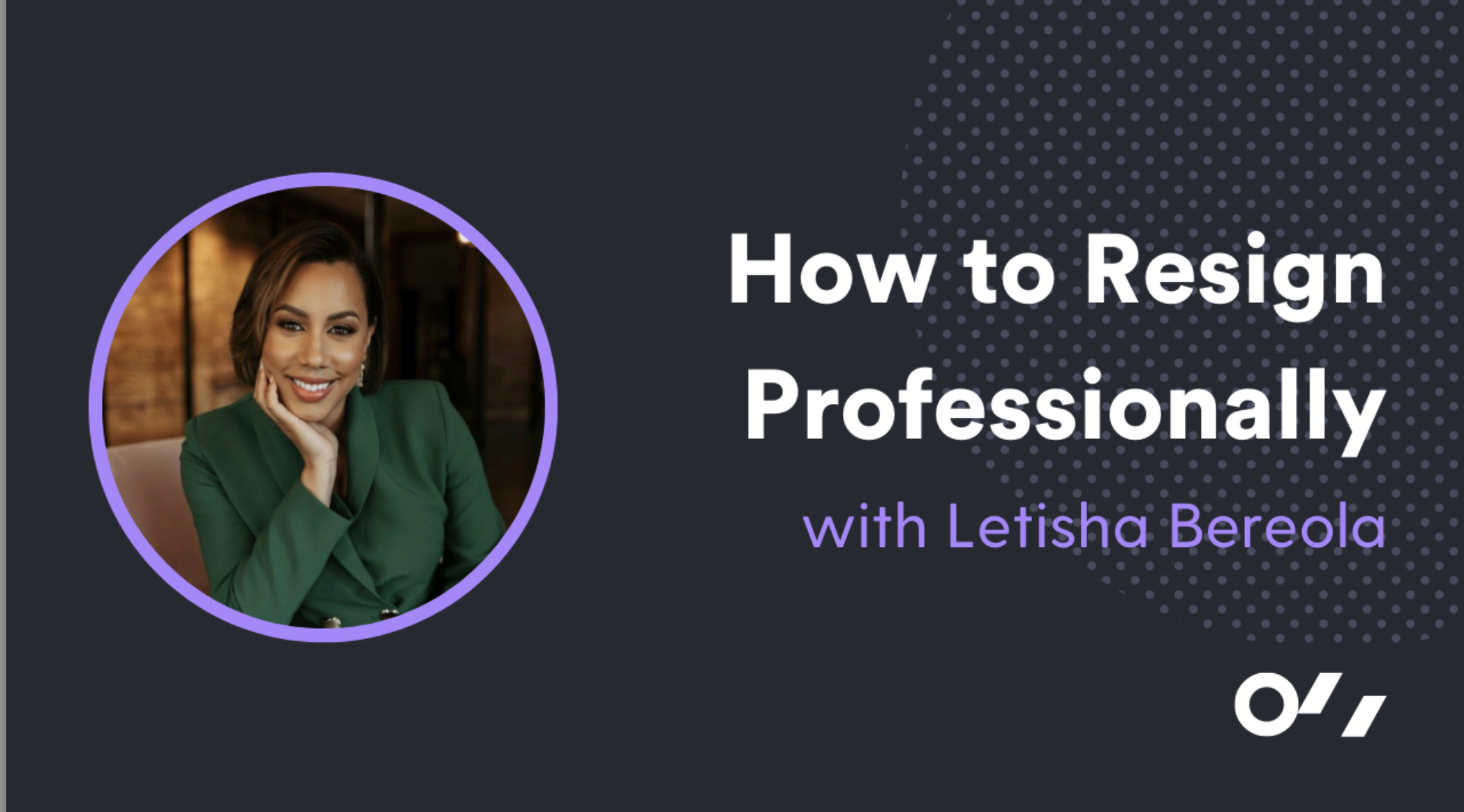 There are currently a record number of people leaving the workforce, which in turn, has left many employees struggling to navigate the resignation process. I recently placed a few candidates who were a part of this transition, and although they were enthusiastic about beginning their new role, many were struggling to navigate the resignation process. For some, this was their first time leaving their organization in over a decade, while others had built up a strong connection with their colleagues and organization. This undeniably made it difficult for them to resign gracefully and maintain a strong level of professionalism.
So, in order to help candidates navigate this conversation, I sat down with career coach Letisha Bereola who shares her advice for properly resigning and leaving a positive impact on your organization.
In our conversation, she outlines:
Who to inform of your decision
Crafting a letter of resignation
Determining how much context and details to provide
Preparing for a counteroffer
How to leave gracefully and professionally
What is the order of operations for handing in your notice?
Consider the member(s) of your team who you should notify of your decision. If you have a strong relationship with your manager or the leadership within your organization, you should begin by scheduling a one-on-one meeting.
However, if your relationship with these members of your organization is a bit more disconnected or strained, Bereola advises that you reach out to human resources and get their involvement on the issue. They will serve as a buffer through this transition period and will help you navigate these difficult conversations.
When should you hand over your resignation letter?
It is wise to begin putting together a resignation letter early in the transition process, as it will serve as official documentation to track your termination of employment. Prior to handing in your resignation letter, it is important to schedule a meeting to inform your manager or human resources of this decision. From there, it is typically requested that you state your intention to leave in writing, so having an offer letter ready can be beneficial.
Bereola suggests that you ask members of your team if there is anything specific to include in the letter, whether that be a statement about your time there or the specific date you plan on leaving. There are multiple formats online from Indeed and LinkedIn to review and consider when crafting this letter, but generally, they include a statement of your resignation, your last day of work, and a concluding remark of gratitude.
How much context should you provide behind your reason for leaving?
In your resignation letter, it is not as important to include as much context behind your reason for leaving. Bereola suggests keeping this letter very professional and concise since this form of notice is typically just used for employment records. Additionally, you can be more generic if you have not had the opportunity to establish a solid relationship with your team.
On the other hand, if you have a strong relationship with your colleagues, you will likely need to provide additional context. Similarly, if you are breaking an employment contract, not providing a reasonable amount of notice, or if you have been at your current organization for a significant amount of time, you may also consider providing more details.
Should you consider a counteroffer?
Prior to scheduling a meeting with your employer to discuss your resignation, make sure you have another offer or future plan in place. This will not only make it easier to discuss your reason for leaving, but it will better prepare you for the possibility of a counteroffer. So if you receive a counteroffer, should you consider it?
If you are fiscally motivated and your current organization presents an offer that is equally or more competitive, then it might be worth considering. However, if you are leaving because you feel burnt out or unfulfilled, then accepting a counteroffer will likely just delay your resignation process.
Consider the state of your organization prior to accepting a counteroffer. There is always a possibility that the relationship you have established with your leadership team could change after accepting a counteroffer. They may be more skeptical of your employment since they know you were previously planning to leave. It is also important to note that if organizational restructuring occurs, your employment might be unsecured since leadership teams were already aware that you had plans to resign.
How should you make the most of your last two weeks?
Treat the last two weeks at your organization like you treated the first two weeks. Acting gracefully and professionally during your remaining days is critical to leaving on good terms. Bereola adds that "how you leave and how you act in those last two weeks are a major signal to your integrity and professionalism." Offer solutions to make this transition period as seamless as possible.
You may offer to:
Train additional members
Craft a guidebook
Share professional contacts
Being a strong asset to your organization during your remaining days will ensure that you leave professionally and maintain strong connections moving forward.
Resigning Professionally and Making a Positive Impact
Navigating a career change can be challenging and overwhelming, but having a resignation plan in place can help ease some of these concerns. Determine who to address within your organization and begin crafting a letter of resignation. Be conscious of how much context to provide regarding your decision and prepare your response to a potential counteroffer. Finally, navigate the entire resignation process with grace and professionalism in order to maintain a positive relationship with your employer and colleagues.